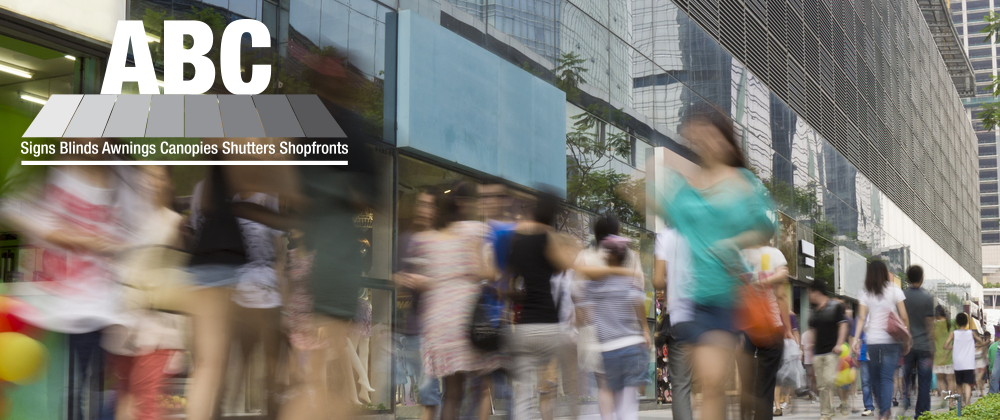 Stand out on a busy high street with ABC Blinds & Signs

ABC Blinds and Signs, Shutters and Shopfronts has been established for over 30 Years and specialises primarily in the Manufacture, Design and Installation of Shop Signs, Shop Signage, Commercial Folding Arm Awnings, Full Cassette Awnings, Traditional Victorian Awnings, Residential Awnings, Dutch Canopies, French Wedge Canopies, Venetian Blinds, Roller Blinds, Vertical Blinds, Garage Door Shutters, Plantation Shutters, Security Shutters and Shopfronts.

We have carried out a variety of projects ranging from simple Shop refurbishments to a complete re-brands and are here to assist you in refreshing your Business or Shop Premises.
We have a diverse product range suitable for all budgets and customer requirements.
As we all know appearance and perception is paramount in drawing in the target customer to your business. We endeavour to provide the products and services which will compliment your business strategy - both aesthetically and functionally to make you stand out from other businesses in the modern market place, where competition for business is ever increasing.

For those looking to further enhance their aesthetic authority along the busy high street look no further than 'Modern Commercial Folding Arm Awnings' or for those looking for a more classical look, we can provide 'Drop Arm Traditional Victorian Awnings'. Both Awnings are equally adept functionally and can be customised to exact specification to include branded sign writing (all fonts), colours and printed logo designs on the fabric/canvas of the awnings.


Our highly experienced staff with practical knowledge of the industry fully compliment our diverse product range. Please take your time to have a look at our website to view our range of products and do not hesitate to contact us to arrange a FREE QUOTATION.
Based in Rainham, Essex, ABC Blinds and Signs offer a full range service to:
South East of England primarily in all of the London Boroughs
, Essex
, Hertfordshire
, Middlesex
, Berkshire
, Kent
, Surrey
, Sussex.

​
Call our Sales Director Andrew Direct on 07831135536 to arrange your FREE QUOTATION or Email us at sales.abcblindsandsigns@gmail.com
Our Product Range includes:

Shop Signs & Signage

Design, manufacture and installation

Illuminated Signage & Non Illuminated Signage
Projection Signs
Aluminium Fascia Signs
Sign Lighting
Stainless Steel Lettering
Signage Repair and Maintenance
Applied Window Vinyl Lettering and Graphics
Applied Vehicle Vinyl Graphics

Awnings

:

Design, manufacture and installation

Commercial Awnings
Cafe Awnings
Restaurant Awnings
Shop Awnings
Residential Garden Awnings
Replacement Awning Fabric Covers
Awning Repair and Maintenance
Sun Blinds

Electric and Manually Operated Folding Arm Awnings​
Traditional Victorian Awnings

Canopies

:

Design, manufacture and installation

Retractable Dutch Canopy Blinds
Fixed Dutch Canopy Blinds
French Wedge Canopy Blinds
Canopy Repairs and Maintenance
Replacement Canopy Fabric Covers

Blinds

:

Design, manufacture and installation

Commercial Blinds

Residential Blinds

Electric Motorised Blinds

Office Window Blinds
Sun Blinds

Blackout Roller Blinds

Interior Blinds
Vertical Blinds
Roman Blinds

Fire Retardant Fabric Blinds
Venetian Blinds
Roller Blinds

Shutters

:

Design, manufacture and installation

Security Shutter Repair and Maintenance
Electric Security Shutters
Security Shutters
Roller Shutters
Perforated Security Shutters
Garage Door Shutters
Residential Security Shutters
Commercial Security Shutters
Port Cullis Security Shutters
Plantation Shutters

Shopfronts

Simple shopfront refurbishments
Full rebrand design & installation
Wooden Timber Shopfronts
Aluminium Shopfronts
Glass Shopfronts
Shopfront Repairs and Maintenance